SERMONS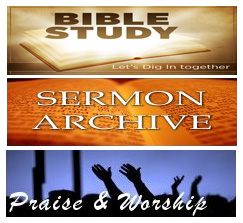 As a free expression of our love, we give you the opportunity to hear the Word of God ministered by our Pastor and other anointed Pastors, Ministers and Teachers. A part of growing spiritually requires that you constantly hear the Word of God. Here you are able to watch and listen to sermons any time itís convenient for you. We promise you that you will be encouraged by what you see & hear.
For additional study tools, Pastor McClendon has provided his notes for your purview. Click on the Bible Study icon to the left to view his notes.
*Click on the pictures to the right to listen to past sermons or see the song list from Sunday's Praise & Worship.
Date
Sermon/Teaching Title
Media
Speaker
11 February 2018
Nehemiah
Audio
Pastor McClendon
04 February 2018
Your Blessing is Already in Place
Audio
Pastor McClendon
03 February 2018
Singles & Married Couples Enrichment Seminar
Audio
Pastor William Blount, Sr.

---

28 January 2018
He's A Miracle Worker
Audio
Minister Lontavius Lester
21 January 2018
Jesus Defines You
Audio
Pastor McClendon
14 January 2018
Keep On Calling Those Things
Audio
Pastor McClendon
07 January 2018
Cast ALL Your Cares on God
Audio
Pastor McClendon

---

10 December 2017
Power Thought (I "Put" God First In My Life), Part II
Audio
Pastor McClendon
03 December 2017
Power Thought (I "Put" God First In My Life)
Audio
Pastor McClendon